omg I'm so excited


So yeah I haven't moved quite yet, but I have got the internet back (thank god). I've been working on my livestream channel so that it runs movies 24/7 and unless you sit up and watch it for a straight 48 hours you won't see the same movie/show twice. So feel free to drop by there and watch for free. Also if you have any suggestions for movies to stream just put it in the comment or ask for my aim.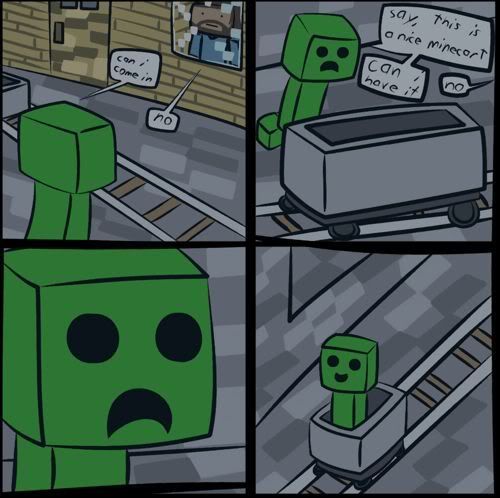 For those of you that have been living under a rock. Minecraft is a sandbox game with no real objection,goal, or ending, but fuck is it fun. I've been playing this game for about a week and a half now and it's still as exciting as the day I picked it up. Now I know some of you are thinking that you've seen clips and picks of the game and it doesn't seem all that awesome am I right? Well fuck your shit. Grab a demo or buy this shit and see for yourself. Also Don't forget to set up a home before dark ;). Nobody decided to tell me that they come at night and scare the befuckingjesus out of you. First day I play it I'm gathering shit for an Awesome mountain side fort when outta nowhere the sun sets within 5 seconds of warning. I get creeped out and start walking towards my future stronghold when out of nowhere I hear moaning and see a creeper....Needless to say I screamed like a little girl and ran.
By the time I saw the glimmer of hope I called my house there was a spider and a creeper waiting for me. I shat a brick and didn't play for a couple hours.


As for movie Recommendations/Ratings I haven't watched any new new movies in awhile so I'll have to pass this time, but I swear I'll get back to the regular schedule of doing a review each night.